Fireboy is truly making waves in the music industry, the upcoming singer came into limelight barely four years ago and has been making incredible and mouth dropping waves in the music industry, which has gained him massive fans and support worldwide.
Fireboy has been known to be an RnB singer whose songs, majorly surrounds and revolve around "love", "relationship", "heartbreaks" and most things that have to do with the issue of the heart and feeling for people.
He has hit another level of fame and incredible success as his music album "Apollo" has surpassed the "African Giant" Burna Boy's "Twice as Tall" on the Nigeriqn Apple music store.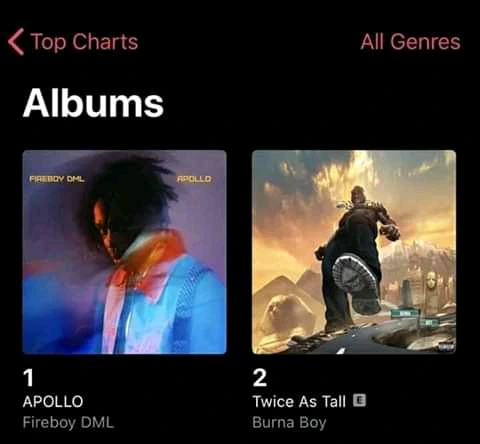 This would be a high success increment to him and his fans and all those who has one way or the other wished the singer well.
Burna Boy is an household name who has won different awards internationally and nationally, he was once a nominme for the Grammy awards and for an artiste album to surpass his, just barely 48 hours, that artiste truly is in a competition with him.
Related post